The Solution To Independent Living
The Life Guardian is the solution to independent living, providing solutions such as Medical Alert Systems, Pill Dispensers and Cellular Systems that give seniors a peace of mind. All of our systems have the most up to date technology to get you the medical assistance you require.
Products
MXD ALERT SYSTEM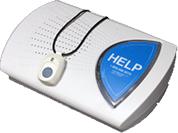 The Latest Medical Alert System Technology at Work MXD The MXD Medical Alert System is Life Guardian LLC's newest model, and contains the latest technology. The first in the industry to be completely VoIP and Cable Compatible and traditional telephone system compatible, this sleek and attractive medical alert was designed by Life Guardian LLC engineers with your protection and comfort in mind. The MXD is the centerpiece of your medical alert system. The extremely powerful unit offers increased speed, accuracy and durability when it comes to monitoring. As always with Life Guardian LLC, this unit's excellent microphone and speaker provide sound quality and clear Two-Way Voice communication between your home and the Response Center to help you hear and be heard during an emergency. The MXD and the Life Guardian LLC Response Center working together is what makes the difference in the reliability of Life Guardian LLC's service. The MXD has been engineered specifically for medical emergency monitoring. Life Guardian LLC designs and builds equipment uniquely for the personal emergency alert system and does not rely on the converted burglar alarm equipment used by many other companies. The MXD Medical Alert is more than just a microphone and speaker. The computer inside the unit is able to perform self diagnostics - monitoring its own battery, the battery of the panic button, and the status of the telephone line. The medical alert automatically tests itself and reports its status to the Response Center. The MXD is easily configured to monitor a medication dispenser in your home. These amazing capabilities and more are what make the Life Guardian LLC Medical Alert System superior to our competitors.
CELLULAR SYSTEM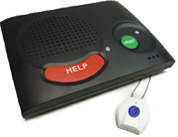 Cellular Medical Alert System(also known as Wireless Emergency Alerts (WEA) or Personal Localized Alerting Network (PLAN)) is a new public safety system that allows customers who own an enabled mobile device to receive geographically-targeted, text-like messages alerting them of imminent threats to safety in their area. The new technology ensures that emergency alerts will not get stuck in highly congested user areas, which can happen with standard mobile voice and texting services. CMAS was established pursuant to the Warning, Alert and Response Network (WARN) Act.
GPS CARE WATCH

The Care Watch is actually a tiny cellphone combined with an ultra-accurate GPS location system. Users are completely protected wherever cell service exists. Worn as a watch or a pendant, it's activated with the simple push of a button.Care Watch has its own dedicated cell service and does not depend on your home phone for operation.Care Watch can locate lost users, orient them to their surroundings, and get them home safely. In an emergency, seconds matter. Care Watch's digital interface shaves more than a full minute from the average response times of traditional devices. This critical difference might just save a person's life.
MEDREADY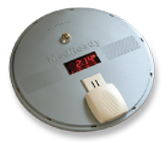 55% of Older Adults do not follow, in some way, medication regimen.Medication non-adherence accounts for more than 10% of older adult hospital admissions.Medication non-adherence costs the US healthcare system approximately $290 billion a year or 13% of all spending. Medication management is a growing and costly problem for seniors and at-risk individuals in the United States. Life Guardian LLC's affordable, easy-to-use medication management systems helps seniors, at risk individuals, and persons with chronic illnesses better manage their medications helping to reduce illnesses and hospital visits associated with medication non-adherence. Our MedReady pill dispenser was designed to help persons managing multiple prescriptions adhere more easily to their doctor's prescription regimen. Our easy-to-use pill dispensers can release pills up to 4 times per day. A client, caregiver, or medical professional can load the medications, set the clock, program the alarm, close and lock the lid. When the time comes to take your next dose, the alarm will sound and the dose will rotate into position. The alarm stops when the dose is taken out. Life Guardian LLC's medication dispensers are monitored by our Care Center which means if you or your loved one misses a dose we can follow up and make sure that adherence occurs. On average clients using our medication dispensers are 90% compliant with their doctor's prescription regimen.
SIP AND PUFF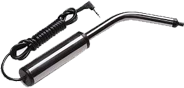 With a slight sip or puff from the mouth this switch will trigger the medical alert unit which will contact the Care Center. The switch requires only a tiny amount of pressure change, so the user does not need a lot of respiratory strength to use this switch.If the disability does not allow you to be able to press a pendant, there is a device called a "Sip and Puff" which will allow you to suck into a plastic straw, which activates the wireless transmitter. The signal is then sent to the base unit, which automatically dials the monitoring center.
TIP SWITCH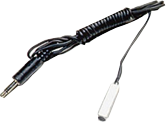 For slight movements and those with little strength this specialty switch is not activated by touch. To activate, the tip switch needs to be raised 5 degrees from a horizontal or flat position. This switch can be mounted to a finger, arm, headband, eyeglasses etc.The slightest movement of the finger will activate your device. The switch is easily attached with an adjustable Velcro band and is adjustable for finger length as well.
PILLOW SWITCH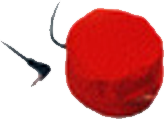 The pillow switch is an excellent switch for people with larger motor movements because it is able to cushion the force of their movement. If an individual has movement difficulties such as 'stopping' their movement, the switch will not be damaged. The switch is encased in soft foam and is in a removable, washable velvet bag.Activated by pressing the top foam surface. Smooth, soft surface makes this a suitable switch for head or cheek activation. For added comfort and durability, a washable fabric cover is also included.
KEY LOCK BOX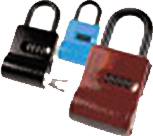 Our key lock boxes provide a secure location to place an entry lock key. In the event of an emergency the Care Center can provide emergency service personnel your lock box code so that they can get into your home quickly eliminating the need for a forced entry. With a key lock box you never have to worry about the wrong person finding your key.